Coup de tonnerre : 306 dirigeants d'entreprises britanniques publient une tribune en faveur du Brexit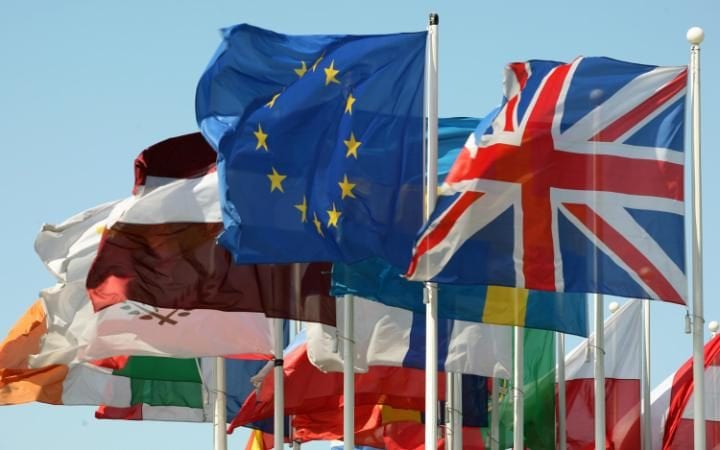 C'est un nouveau coup de tonnerre qui a retenti outre-manche le 15 mai dans le cadre de la campagne référendaire pour ou contre la sortie du Royaume-Uni de l'Union européenne.
Alors que la campagne de terreur, lancée par les forces euro-atlantistes pour tenter de dissuader les électeurs de voter pour cette sortie de l'UE, ne cesse de s'amplifier, ce sont plus de 300 hommes et femmes d'affaires britanniques qui ont décidé de publier une tribune en faveur du Brexit, et cela dans le quotidien de qualité le plus lu du Royaume-Uni, le Daily Telegraph.
En agissant de la sorte, ces 300 dirigeants d'entreprises viennent de briser un tabou et une idée reçue, que la propagande européiste a mis dans les esprits, au Royaume-Uni comme en France. À savoir que ce seraient les classes populaires et les ignorants des affaires du monde qui seraient contre la prétendue « construction européenne », tandis que les actifs, les cadres, les entrepreneurs seraient en faveur de l'Union européenne.
Eh bien cette lettre ouverte – qui ressemble à un pavé dans la mare – prouve que ce n'est pas vrai.
Parmi ses signataires figurent notamment :
– le président de la chaîne de pubs Wetherspoon, Tim Martin,
– la directrice exécutive de la société de livraisons Action Express, Elaine Harries,
– l'ancien président du géant du tabac British American Tobacco, Patrick Sheehy,
– l'ancien vice-president Europe de Sony, Steve Dowdle,
– le fondateur de la chaîne de produits d'hygiène Superdrug, Peter Goldstein,
– et même (eh oui !), un des dirigeants de Goldman Sachs Royaume-Uni, David Sismey.
La plupart des autres signataires sont cependant des responsables de petites et moyennes entreprises.
En réalité, les seuls chefs d'entreprise qui manquent massivement parmi ces signataires sont les dirigeants des principales entreprises britanniques, cotées à l'indice FTSE-100 de la Bourse de Londres (équivalent de notre CAC-40). Ceux-là en revanche, soit se sont prononcés en faveur du maintien du Royaume-Uni dans l'UE, soit ont préféré rester neutres dans le débat.
On trouve ainsi la confirmation que les vrais partisans de la prétendue « construction européenne » se limitent en fait à un tout petit milieu : celui de l'oligarchie financière et industrielle euro-atlantiste, et des cercles dirigeants états-uniens et européistes.
Ces cercles sont très puissants par les moyens financiers, militaires et médiatiques dont ils disposent. Mais ils se heurtent de plus en plus la rébellion des sociétés des différents pays d'Europe, qui ont désormais pris conscience du projet liberticide et totalitaire de création des « États-Unis d'Euro-Amérique ».
Et qui ont décidé de le faire échouer.
Je publie ci-après cette Tribune signée par 306 dirigeants d'entreprises britanniques en faveur du Brexit, dans une traduction en français de mon cru, donc avec les réserves d'usage.
Il reste à espérer que les élites françaises – traditionnellement "toujours en retard d'une guerre" – vont bientôt comprendre que les Britanniques montrent la voie de l'avenir. Et en particulier que les dirigeants du monde des affaires en France vont finir par admettre que les analyses que l'UPR prodigue depuis plus de 9 ans sont les bonnes.
François ASSELINEAU
Sources :
a)- Article de présentation : http://www.telegraph.co.uk/news/2016/05/15/eu-referendum-more-than-300-business-leaders-back-a-brexit/
b)- Tribune signée par 306 chefs d'entreprises : http://www.telegraph.co.uk/opinion/2016/05/15/letters-britains-competitiveness-is-undermined-by-a-failing-eu/
TRIBUNE PUBLIÉE DANS LE DAILY TELEGRAPH DU 15 MAI 2016
RÉFÉRENDUM SUR LA SORTIE DE L'UE : PLUS DE 300 DIRIGEANTS D'ENTREPRISES SOUTIENNENT LE BREXIT
La Grande-Bretagne est la cinquième plus grande économie du monde et, selon les projections actuelles, elle dépassera l'Allemagne pour devenir la locomotive de l'Europe. La Grande-Bretagne est le plus grand investisseur étranger aux États-Unis, et notre ouverture et notre dynamisme sont tels que nous attirons plus d'investissement étranger que tout autre pays européen.
Trois des 10 meilleures universités du monde sont britanniques, nous parlons la langue internationale des affaires, notre système juridique suscite la confiance du monde entier et nous avons une réputation inégalée pour l'innovation et la créativité.
Ce sont quelques-unes des raisons pour lesquelles nous pensons que la Grande-Bretagne est un pays de classe mondiale. Cependant, nous pensons également que la compétitivité de la Grande-Bretagne est minée par notre appartenance à une Union européenne défaillante.
Année après année, l'Union européenne achète moins auprès de la Grande-Bretagne parce que les économies des États membres stagnent et que des millions de personnes y sont au chômage. Selon Mervyn King, l'ancien gouverneur de la Banque d'Angleterre, l'euro « pourrait exploser ». La paperasserie bruxelloise étouffe chacune des 5 400 000 entreprises de Grande-Bretagne, même si seule une petite minorité d'entre elles fait du commerce avec l'UE.
Ce sont les affaires – et non le gouvernement – qui génèrent des revenus pour le Trésor public et des emplois pour nos collectivités. En dehors de l'UE, les entreprises britanniques seront libres de croître plus rapidement, de se développer sur de nouveaux marchés et de créer plus d'emplois. Il est temps de voter pour partir et de reprendre en main notre destinée.
Liste des 306 signataires
1. Arun Ahluwalia, Director, Opera Opera Opticians
2. Kay Alexander, Founder, Kay Alexander
3. Andrew Allum, Partner, LEK Consulting
4. John Amor, Owner, The Wight Hotel
5. Arabella Arkwright, Co-Founder, Core Health & Wellness
6. Johnnie Arkwright, Chief Executive, Hatton Technology Park
7. Iftikhar Awan, Director, Awan Consulting
8. Farzana Baduel, Founder, Curzon PR
9. Jeremy Bagge, Director, Stradsett Estate Farms
10. Iain Baillie, Founder & Co-Chief Executive, Asset Match
11. Davinder Bains, Director, A1 Labour Supply
12. David Baldwin, Managing Director, Bymed
13. Neil Ballantyne, Managing Director, Ballantynes of Walkerburn
14. Diane Banks, Chief Executive, Diane Bank Associates
15. Patrick Barbour, Former Chairman, Barbour Index & Microgen
16. Dave Barnby, Proprietor, Books2buyBooks2write
17. Martin Barraclough, Chairman, Giles W Pritchard-Gordon (Shipowning)
18. Peter Barrow, Commercial Director, Barco Sales
19. Oliver Barton, Owner, Oliver's Kitchen
20. Andrew Baxter, Managing Director, Europa Worldwide Logistics
21. Neville Baxter, Director, RH Development Property
22. Nigel Baxter, Managing Director, RH Commercial Vehicles
23. Kevin Bell, Director, CDM 2014
24. Martin Bellamy, Chairman and Chief Executive, Salamanca Group
25. Dave Bentley, Ecological Consultant, Dave Bentley Ecology Services
26. Grahame Berkeley, Chairman, Berkeley Burke Group
27. Stephen Bernhard, Founder, Bernhard Grinders & Co
28. Saqib Bhatti, Director, Younis Bhatti & Co
29. Robin Birley, Proprietor, 5 Hertford Street
30. Peter Bishop, Managing Director & Founder, Bishop GmbH
31. Edward Bonnar, Director, Beaufort & Blake
32. Gareth Bott, Founder, R.E.P Air Services
33. Peter Botting, Founder, Peter Botting
34. Simon Boyd, Director, John Reid & Sons
35. Ivor Braka, Director, Ivor Braka
36. Rob Bransgrove, Chairman, The Ageas Bowl
37. Simon Brewer, Chief Executive, Vantage Investment Advisory
38. Harriet Bridgeman, Founder, Bridgeman Art Library
39. Stephen Britt, Managing Director, Anchor Storage Solutions
40. James Bromley, Director, Quality of Sales
41. Andrew Brown, Director, Haircut House
42. Ian Brown, Managing Director, Industrial Maintenance Engineers (IME Contracts)
43. David Buik, Market Commentator, Panmure Gordon & Co
44. Dominic Burke, Group Chief Executive, Jardine Lloyd Thompson Group
45. Jeremy Burrowes, Director, Grove Mill Developments
46. Thomas Burton, Director, Agri Farm Services
47. Tony Byrne, Managing Director, Wealth & Tax Management
48. Michael Campbell, Chairman, The Ellis Campbell Group
49. Lee Canning, Director, Leaflet Distribution and Promotional Services
50. Mark Cannon Brookes, Director, Smith & Williamson Investment Management
51. Hugh Cavendish, Chairman, Holker Estate Group
52. Julian Cazalet, Chairman, Herald Investment Trust
53. Peter Chadha, Chief Executive, DrPete Technology Experts
54. Ian Chamberlain, Director & Owner, Berkeley Entertainments
55. Carl Chambers, Non-Executive Director, CNG
56. Chris Chatfield, Managing Director, Compass Travel
57. Peter Chesterfield, Former Executive Chairman, Wessex Asset Management
58. Moorad Choudhry, Former Chief Executive, Habib Bank
59. Aftab Chughtai, Director, AFTABS
60. Adam Cleary, Chief Executive, Cavenham Capital
61. Reg Clifton, Proprieter, QED Electrical Services
62. Andrew Clowes, Director, AHC & Partners
63. Paul Coffin, Managing Director , Capital Financial Markets
64. Colin Coldwell, UK Managing Director, InfoQuest
65. Tim Congdon, Founder, Lombard Street Research
66. Steve Conley, Managing Director, Protol Comar
67. John Cook, Managing Director, Croudace Properties Group
68. Anthony Coombs, Chairman, S&U
69. David Cooper, Director, Commercial Litigation Funding
70. Andrew Cope, Chairman, Zenith
71. Daniel Corrigan, CME European Trade Repository, Chief Executive
72. Alan Cosby, Chairman, G B Kent & Sons
73. James Crocker, Managing Partner, Howell & Co Solicitors
74. Peter Cruddas, Chief Executive, CMC Markets
75. Philip Cullimore, Chairman, Eastman Kodak SARL
76. Richard Cuming, Partner, Bygones Torquay
77. Jonathan Dancy, Managing Partner, JCR Associates
78. Kevin Davies, Director, KDM Events
79. Kenneth Davy, Chairman, SimplyBiz
80. Damon de Laszlo, Chairman, Harwin
81. Patrick de Pelet, Partner, Bowden Farms and Services
82. David Dean, Commercial Manager, INRG Solar
83. Alexander Deane, Managing Director, FTI Consulting
84. Bill Dixon, Director, Cumbria X Press
85. Judith Donovan, Chairman, DIY Direct Marketing
86. Steve Dowdle, Former Vice President, Sony Europe
87. William Drake, Co-Founder, Lord North Street
88. Simon Dunn, Managing Director, Stayway
89. John Elliott, Chairman, Ebac
90. Graham Ellis, Founder, Ellis Transport Services
91. Michael Faber, Chairman, Lyall Management
92. Nicholas Fairfax, Chairman of the Advisory Board, Hawki Worldwide
93. R H Fewster, Chairman, Dalsara
94. John Fifield, Chairman, Fifield Glyn
95. Nick Finegold, Chief Executive, Curation Corporation
96. Peter Finnie, Former Chief Engineer, Cranswick Country Foods
97. Scott Fletcher, ANS Group, Chairman & Founder
98. Howard Flight, Chairman, Flight & Partners
99. Lance Forman, Owner, H. Forman & Son
100. Rocco Forte, Executive Chairman, The Rocco Forte Collection
101. Joe Foster, Co-Founder, Reebok
102. Mark Fox, Managing Director, MEK
103. David Franks, Chairman, Redcomb Pubs
104. David S Franks, Chief Executive, Franks Advances
105. Michael Freeman, Co-founder, Argent Property Group
106. Harry Fuchs, Chief Executive, Haryl (1991)
107. Anthony Fuller, President, Fuller, Smith & Turner
108. Roger Gabb, Director, Bibendum Wine
109. Alexei Garan, Founder & Principal, Receptis Capital
110. Rupert Gather, Chairman, Invest UK
111. Michael Geoghegan, Former Chief Executive, HSBC Group
112. Peter Gilbert, Proprietor, Dunstanburgh Castle Golf Course
113. Peter Goldstein, Co-Founder, Superdrug Stores
114. Anthony Good, Chairman, Cox & Kings Travel
115. Bill Good, Chief Executive, Diverco
116. Phil Good, Chief Executive, Hopewiser
117. Campbell Gordon, Managing Partner, Optimus Capital LLP
118. Chris Gower, Founder, Lawbrook Partners LLP
119. Alexander Graham, Former Deputy Chairman, The Frizzell Group
120. Roddy Graham, Director, THB Group
121. Richard Green, Partner , Parkinson Wright Solicitors
122. Tim Guinness, Chief Investment Officer, Guinness Atkinson
123. Justin Hall, Chief Executive, Protocol Global
124. Alan Halsall, Former Chairman, Silver Cross
125. Frederick Hamilton, Director, Dscribe
126. Michael Hancocks, Former Director, New Metals & Chemicals
127. Giles Hankinson, Business Development Director, Paperless Receipts
128. Peter K Hargreaves, Co-Founder, Hargreaves Lansdown
129. Elaine Harries, Managing Director, Action Express
130. Kevin Harrington, Chief Executive, one2one Digital
131. Ian Harris, Proprietor, N Bloom & Son
132. David Hartley, Director, Bymed Surgical
133. John Hatt, Founder, cheapflights.com
134. Jeremy Hawke, Director, BMR Group
135. Adrian Hayes, Business Coach
136. Oliver Hemsley, Chief Executive Officer, Numis Securities
137. Ian Herbert, Chief Executive Officer, Vistair Systems
138. Jonathan Heywood, Managing Director, IFP-UK
139. John Hickman, Chairman and Founder, Kingston Estates
140. Robert Hiscox, Honorary President, Hiscox Insurance
141. Will Hobhouse, Chairman, Heal's
142. Daniel Hodson, Chairman, BPL (Holdings)
143. Mark Hodson, Managing Director, Spirthill Business Development
144. John Hoerner, Former Chief Executive Officer, Tesco Clothing (UK and Central Europe)
145. Christine Hogg, Director, CAMS Fire & Security
146. Roger Holehouse, Chairman, Fernwood Group
147. Margaret Hook, Director, Darlena
148. Jeremy Hosking, Founder, Hosking & Co
149. Kevin Hughes, Director, Trull House Stud
150. Varimder Hundal, Director, Universal Brothers
151. David Hunter, Director, Smith & Williamson
152. Adrian Huston, Director, Huston & Co Tax Consultants & Accountants
153. Graham Hutton, Founder, Hutton Collins Partners LLP
154. William Hynett, Chief Executive, Britten-Norman
155. Malcolm Innes, Founder, Malcolm Innes Pictures
156. Clive Jacobs, Chairman, Jacobs Media Group
157. Ajay Jagota, Chief Executive, KIS Group
158. Jack Jenkins, Partner, Hitchenor Wakeford
159. Paul Jenkins, Director, NorthIT
160. Mike Jepson, Managing Director, MTP Innovations
161. Adrian Johnson, Former Chief Executive, LGV Capital
162. Arthur Jones, Founder, ANJ Executive
163. William Jones, Chairman, Global Village
164. Dr Bernard Juby, Medical Practitioner
165. Nicholas Jupe, Director, NJ Consulting
166. Saleem Kader, Chief Executive, Bombay Stores Group
167. Stanley Kalms, Founder, Business for Sterling
168. Chris D Kelly, Chairman, Keltruck
169. Geoffrey Kelly, Managing Director, Euro Strategies
170. Alistair Kelman, Chief Executive, Cachebox TV
171. John Kersey, Managing Director, Kersey Hairdressing
172. George Kieffer, Director, Piazza Rights
173. Adrian King, Founder, K T & Partners
174. Brian Kingham, Chairman, Reliance Security Group
175. David Kirk, Director, David Kirk & Co
176. Nicholas Kirk, Director, Aslan Investments
177. Peter Kleeman, Founding Chairman, Allside Asset Management Company
178. Harry Langton, Director, Langton Watzdorf Inernational
179. Robert Law, Managing Director, AGD Equipment
180. James Lee, Partner, J&S Farms
181. Michael Liebreich, Founder, Bloomberg New Energy Finance
182. Craig Lindsay, Director, Core Specialist Services
183. Jonathan Little, Managing Partner, Northill Capital LLP
184. Royston Lloyd-Baker, Partner, Lloyd-Baker & Associates LLP
185. John Longworth, Former Director General, British Chamber of Commerce
186. Mark Loveday, Former Senior Partner, Cazenove & Co
187. Rupert Lowe, Former Chairman, Southampton Leisure Holdings
188. Gary Lydiate, Chief Executive Officer, Kilfrost Group
189. William MacDougall, Co-Managing Director, MacDougall Arts
190. Colin Mackenzie, Founder, CompareGroup
191. Alastair MacMillan, Founding Director, White House Products
192. Colin Maitland, Chairman, Netcentrix
193. Tim Martin, Chairman, JD Wetherspoon
194. Graham Mason, Owner, M54 Self Storage
195. John May, Founder, Hillhouse Nexus
196. Adrian McAlpine, Partner, Sir Robert McAlpine
197. Peter McLane, Founder and Managing Director, Indigo Software
198. James Mellor, Chief Executive, Rainbow Trout Films
199. Keith Miles, Former Financial Director, Institute of Economic Affairs
200. Edgar Miller, Managing Director, Palladian
201. Marcus Miller, Managing Director, Millers Bespoke Bakery
202. Phillip Miller, Chairman and Chief Executive, Adventure Island
203. Philip Milton, Investment Fund Manager and Senior IFA, Philip Milton & Co
204. Tom Moloney, Founder, Transair Flight Equipment
205. Gary Mond, Managing Director, Redcliffe Training Associates
206. David Mond, Chief Executive, ClearDebt Group
207. Julian Morgan, Joint Managing Director and Owner, KPM-Marine
208. Philip Morrell, Owner, Magna Carta Steamship Co
209. Luke Morris, Partner, Larking Gowen
210. Jon Moulton, Chairman, Better Capital LLP
211. Jon Moynihan, Chairman, Ipex Capital
212. Richard Mulligan, Managing Director, Impact Electrical Distributors
213. Paul Munday, Managing Director, Fiscal House
214. Andy Nichols, Owner, Blacksmith & More
215. Christopher Nieper, Managing Director, David Nieper
216. Richard Norton, Former Director, HSBC Project and Export Finance
217. Roderick Oliver, Proprietor, Field 'n Family Petcare Services
218. Mark Owen, Proprietor, Fulwood Computers
219. Ian Page, Chairman, CTL Components
220. Kevin Pakenham, Co-Founder, Pakenham Partners
221. Tim Parker, Chief Executive, Messels
222. Stewart Paterson, Fund Manager, Tiburon Partners LLP
223. Richard Patient, Managing Director, Thorncliffe
224. Simon, Pearson-Miles, Chairman, Sterling Financial Print
225. Jeffrey, Peel, Founder, Quadriga Consulting
226. Adrian Pepper, Chief Executive Officer, Pepper Media Group
227. Andrew Perloff, Director, Panther Securities
228. Michael Petley, Chief Investment Officer, The ECU Group
229. Richard Post, Proprietor, Architectural Ideas
230. David Powell, Chairman, Powell Engineering UK
231. Bruno Prior, Managing Director, Forever Fuels
232. Emma Pullen, Chief Executive, British Hovercraft
233. Mark Pursey, Managing Partner, BTP Advisers
234. David Pusinelli, Non-Executive Director, Charles Stanley Group
235. Rollo Reid, Director, John Reid & Sons
236. David Reid Scott, Former Chairman, Stonehage Fleming
237. Chris Riley, Executive Chairman, Verisio
238. Jamie Robb, Managing Director, Marlborough Tiles
239. Alan Roberts, Managing Director, Alan Roberts & Co Solicitors
240. Robin Ronaldshay, Director, Zetland Estates
241. Clive Rook, Founder & ex-Managing Director, Rook Matthews Sayer Property
242. Frank Rotherham, Managing Director, Ventcroft
243. Simon Rowland, Chief Executive, Veritas International
244. Richard Royden, Director, Royden & Co
245. Christopher Russell, Managing Director, Watercare International
246. John Sanders, Former Non-Executive Director, CIT Bank
247. Andrew Saunders, Financial Director, Scotchcoulthard
248. Savvas Savouri, Chief Economist & Partner, Toscafund Asset Management LLP
249. Charles Sebag Montefiore, Senior Independent Director, Scholium Group
250. Graham Sedgley, Principal, Peplow Recruitment Services
251. Patrick Sheehy, Founder Chairman , BAT
252. David Shipley, Managing Partner, Spitfire Capital Advisors
253. Peter Shirley, Managing Director, Midland Food Group
254. Denys Shortt, Chairman & Chief Executive, Enable.com
255. Christian Siegl, Executive Director, Sovereign Star Trade Finance
256. David Sismey, Managing Director, Goldmans Sachs
257. Andrew Smith, Director, Capital Management Resources LLP
258. Tracy Smith, Founder, Plummers Place Guesthouse
259. Percy Snow, Director, Snows Commercials
260. Bernard Sparkes, Managing Director, Tubby Brands
261. David Speakman, Founder, Travel Counsellors
262. Peter Stabler, Director, The Oswald Partnership
263. Charles Stone, Director, Calcot Hotels
264. Richard Stoughton, Chairman, Crossflight
265. Phil Strong, Managing Director, Chameleon Bar & Dining
266. Andrew Sutcliffe, Managing Director, Nu Level
267. Rhoddy Swire, Founder, Pantheon Ventures
268. Mark Thackray, Director, Textronix
269. Brian Thomas, Director, Thomas Tooling
270. Paul Thomas, Director, Thomas Tooling
271. Peter Thompson, Former Chairman, NFC
272. Clive Thorne, Partner, Wedlake Bell LLP
273. John Thorpe, Founder & Technical Director, Millennia Computer Services
274. Susan Todd, Director, Solent Motor Homes
275. John Toppin, Partner, Nomizon Associates
276. Jeremy Tozer, Managing Director, Tozer Consulting
277. Tim Trotter, Chairman, Glenfern
278. Edmund Truell, Chairman, Disruptive Capital
279. Denzil Vallance, Managing Director, Great Heck Brewing Co
280. Victor van Amerongen, Chairman & Creative Director, Space City Production
281. Alexander van Terheyden, Chief Executive, Schneider Camara LLP
282. Simon Vicary, Managing Director, Vicary Plant Spares UK
283. Amanda Vigar, Managing Partner, V&A Vigar Group
284. Chris Vincent, Managing Director, Orchardleigh
285. Nigel Vinson, Former Director, British Airports Authority
286. Peter Walton, Director, C Walton
287. Stuart Waring, Chairman, Heaton Holdings
288. Tim Watts, Chairman, Pertemps Investments
289. Penelope Wayne, Director, Penway Homes
290. David Webster, Former Chairman, IHG
291. Michael Webster, Co-Founder, Gorkana
292. Simon Wells, Director, Delta T Group
293. Adam Wethered, Co-Founder, Lord North Street
294. Mark Wheatley, Common Councilman, City of London
295. Stuart Wheeler, Founder, IG Group
296. Mark Whelan, Owner, Confused2Move
297. Andrew White, Former Partner, Mayer Brown
298. Bert Wiegman, Managing Partner, Langholm Capital
299. Jack Wigglesworth, Founder and former Chairman, LIFFE
300. Stephen, Wilkinson, Managing Director, CAS Recruitment
301. Brian Williamson, Senior Advisor, Fleming Family & Partners Wealth Planning
302. John Winter, Chief Executive, Ruxley Ventures
303. Brian Winterflood, Founder, Winterflood Securities
304. John Wright, Managing Director, Modern Design Group
305. Brian Yeardley, Founder, Brian Yeardley Continental
306. Phil Yorke, Managing Director, Crosshatch Honing Services

François Asselineau, président de l'Union populaire républicaine. La France doit se libérer de l'Union européenne, de l'euro et de l'Otan.